Registered Users
Major Destash!! Wool, Sbish, Gdiapers, BG AIO, Monkeybuns etc!
---
For hoverers: Selling off stuff we don't use, some cheap!: wool soakers, med and large gdiapers, kissaluvs fitteds, inserts, Sbish hemp fitted, VDC fitted, Thirsties cover, Hemp inserts, microfiber inserts, Monkey Buns AIO, Cuddlebug, Silly Willy Manilly, Infantino Wrap and Tie Carrier, infant boy and toddler girl clothing. We need PP to fund car repairs ASAP!!!

I am doing a major destash! We are running out of room, so I have to get rid of the stuff I overbought or we don't use! My loss is your gain! Make offers, no reasonable offers refused especially if you are buying a lot! PPD is to the US, I'll be VERY reasonable on shipping charges to other countries and will cram as many as I can into as small a package I can, for cheaper shipping! Try me! Non smoking, outside dog home, no inside pets.

PLEASE send Paypal within 8 hours of receiving my address. First person to PP gets what they want! I need these gone! I have lots of mommies interested and want everyone to get an equal chance to buy. I will mail out Mon, Wed, and Fri always with delivery confirmation! If you buy today and pay today (12/9/10), they will go out TOMORROW!!

Babykicks hemp inserts $3ppd apiece or $22ppd
2 light ebf stains (would probably sun out) and the other 6 haven't been used by me. Bought them from here and they were only used a few times!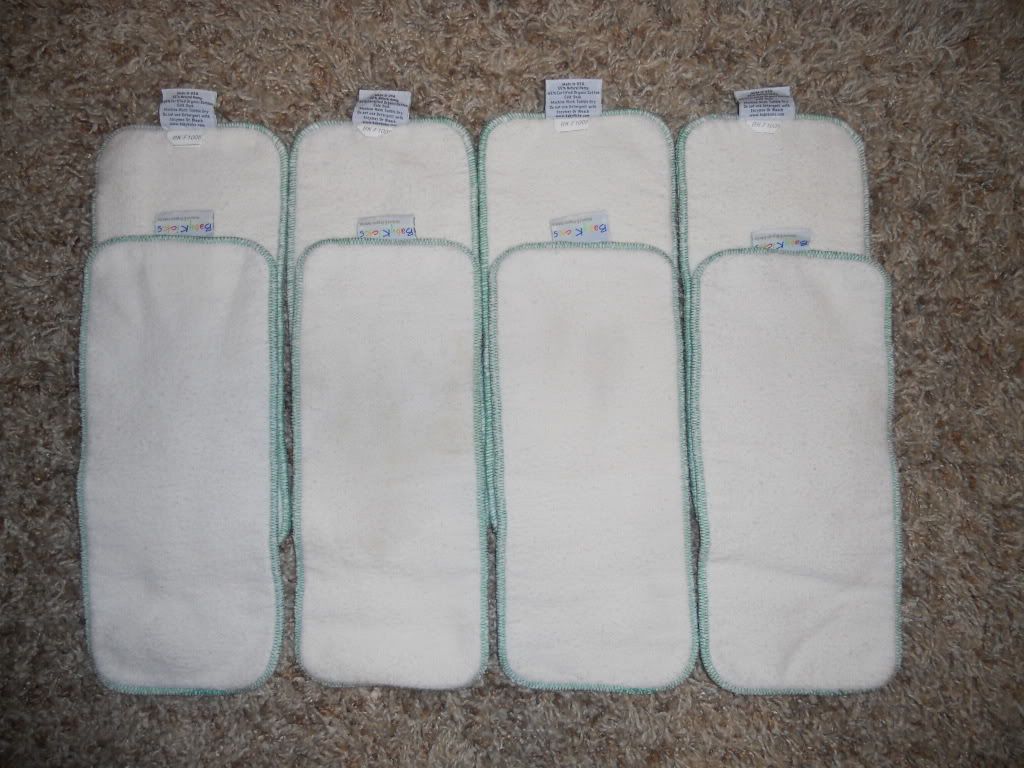 sold


-1 Medium Cuddlebug AI2. These are adorable! Again, don't reach for them so they have to go. Minky polka dot and Zoo animal print sold, hemp trifold inners. [COLOR="deepskyblue"] $11ppd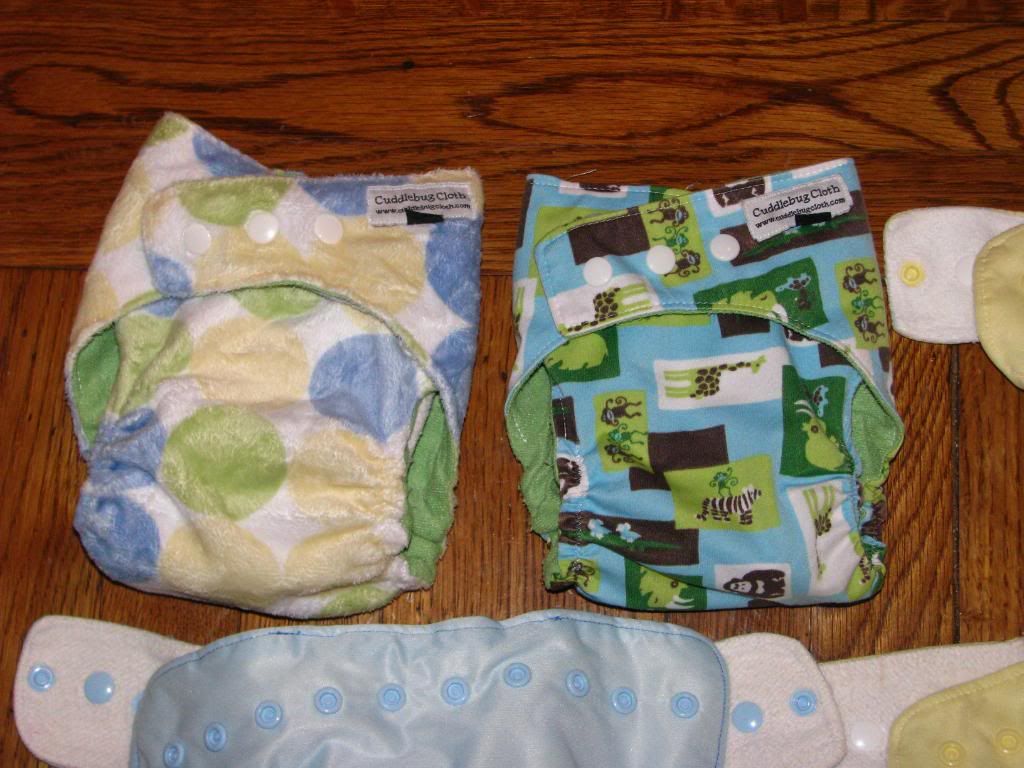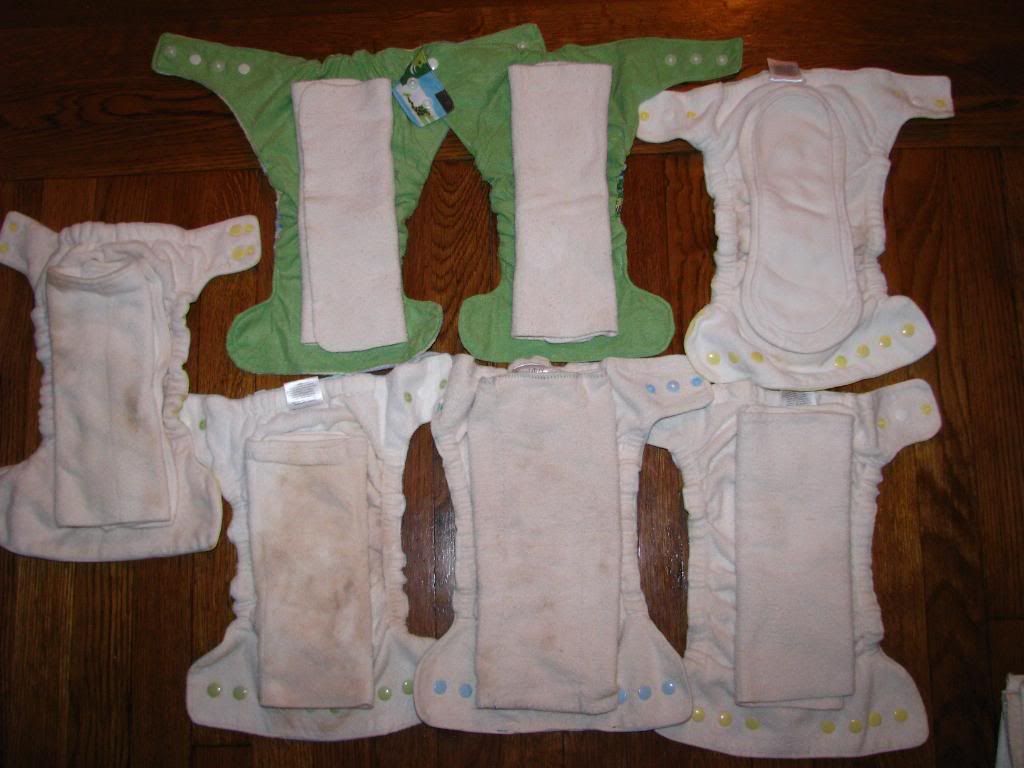 -5 Silly Willy Manilly Medium (inners pictured above). Bought off FSOT, don't fit my DS right but they are cute! All inners are different, two on the left are stained. All are soft and snaps, but they are all different! 2 blue and 3 yellow $9ppd each or $40ppd for all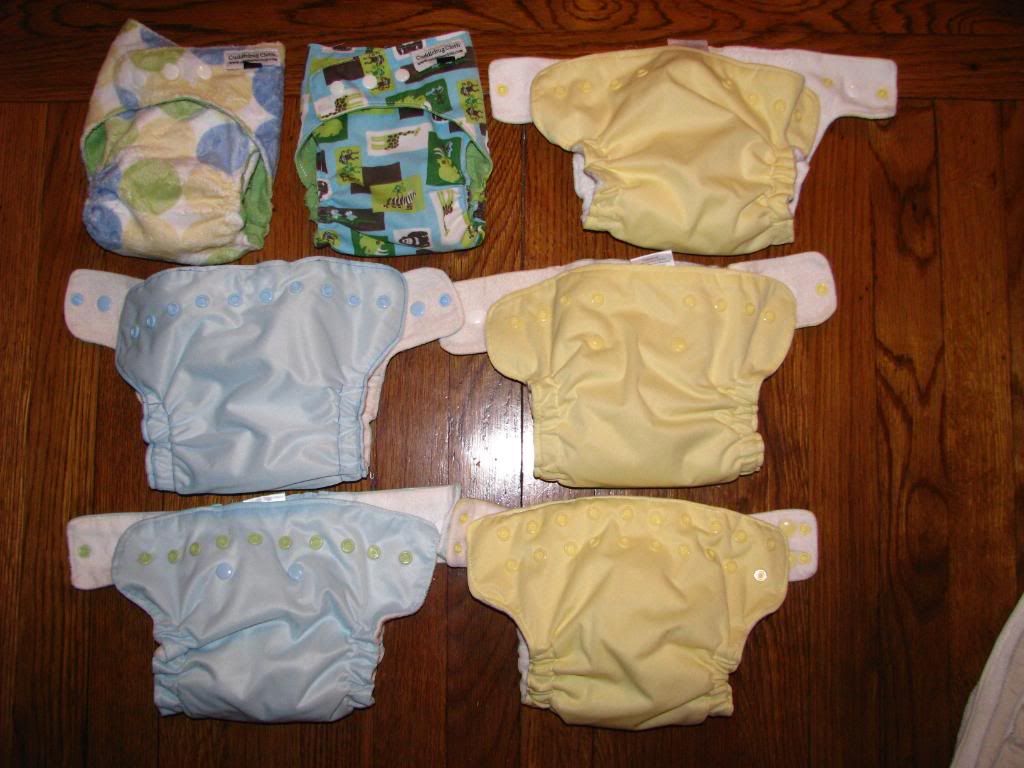 2 New without package (because I ripped it) Medium Gdiapers in Goo Goo Blue and Goodnight Blue, with 3 liners. Bought new by me, never worn because we haven't found the Gdiaper love. sold


-4 EUC Medium Gdiapers in Vanilla, Great Orange, Grasshopper Green, and Blue. These do not come with liners. Velcro is still great, waistbands are a little pilly from the velcro. $11ppd each or $40ppd for all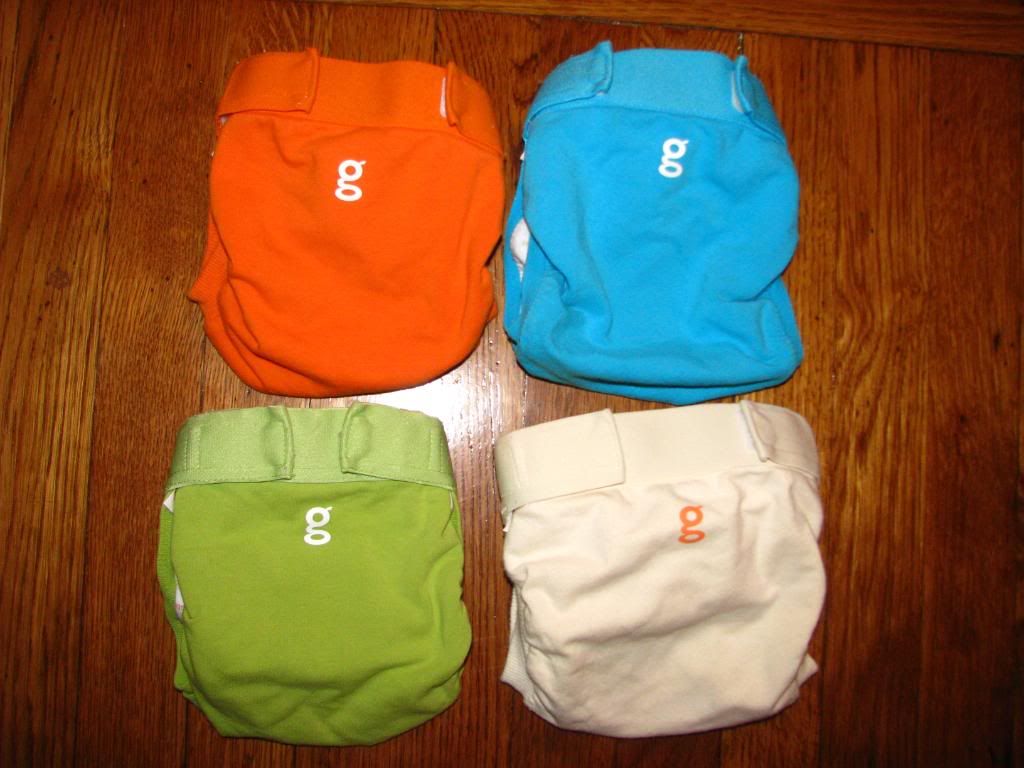 -4 VGUC Large Gdiapers in Great Orange, dyed Green, good vibe stripe sold, and Chocolate Brown. These come with liners, still usable but stained (not sunned yet though). Velcro is fuzzy, curly, but definitely still functionable! $10ppd each or $35 for all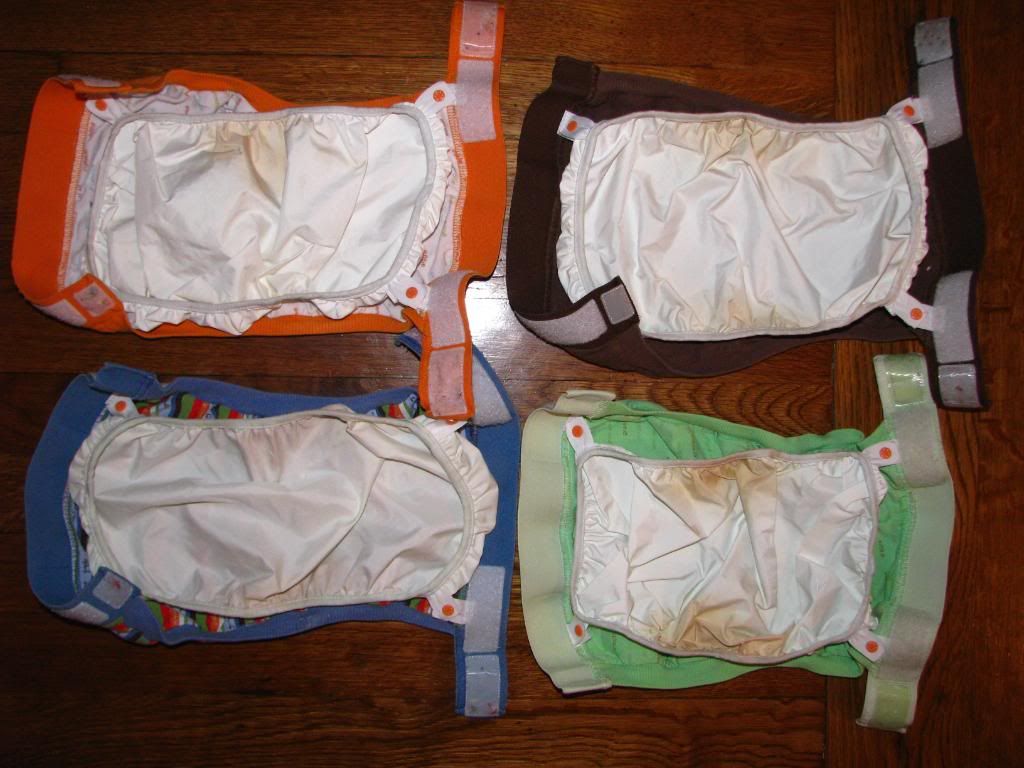 -8 Sunbaby Pocket diapers with 10 microfiber inserts. These are awesome diapers for the price! If my hubby didn't hate pockets so much I wouldn't be parting with these! No stains on the dipes, the top two inserts on the left have light staining (darker in the picture than IRL). $7ppd each or $40ppd for allsold

-1 EEUC Sbish hemp fitted blue(has 2 tags that say M and L... fits like a medium to me) with extra hemp booster. Loved this while it fit, but we only got to wear it 3 times! $14ppd

-1 Vermont Diaper Company Large fitted. Velcro is pilly but still functions! Great workhorse diaper, perfect for nighttime! $13ppd (or $25ppd for Sbish and VDC fitteds)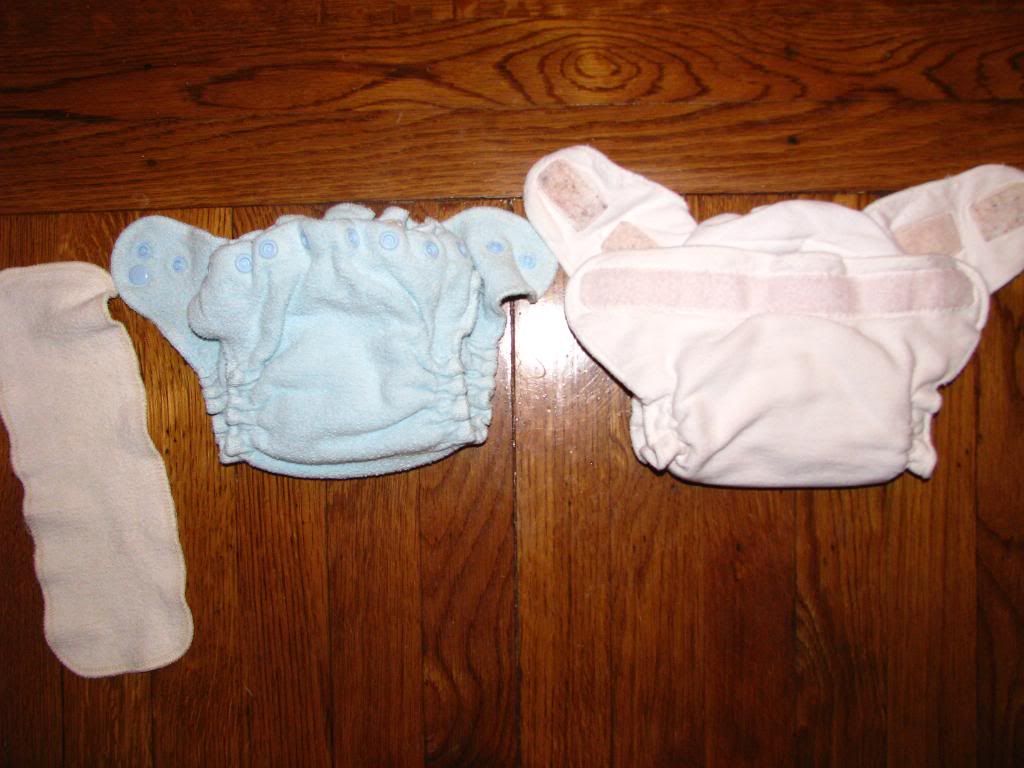 -2 New Tweedlebug Pocket diapers, blue and butter. These are SO soft! Not liking pockets, these were never worn. Comes with 2 large tweedlebugs inserts and one infant insert. $12ppd each or $20ppd for bothsold

Right: Monkey Buns Medium AIO in Aqua and Light Blue. LOVE these diapers! Only worn twice each before DS grew out of them. $11ppd each or $20 for both

Middle: Bumgenius AIO Twilight-Small and Butternut-Medium. Twilight has shot elastic, so it fits like a medium. We've been using these under a cover (the PUL is fine!) at night! Velcro is pilly but still works. Could use some love, but they are stain free and with a little handiwork, could look perfect again! $7ppd each or $11ppd for both

Left: Wonderworks Medium AIO. The blue looking one is actually a deep purple (looked great on my boy). Purple is a little dingy on the inner, but functions perfectly. Butter is EUC! $9ppd each or $15ppd for both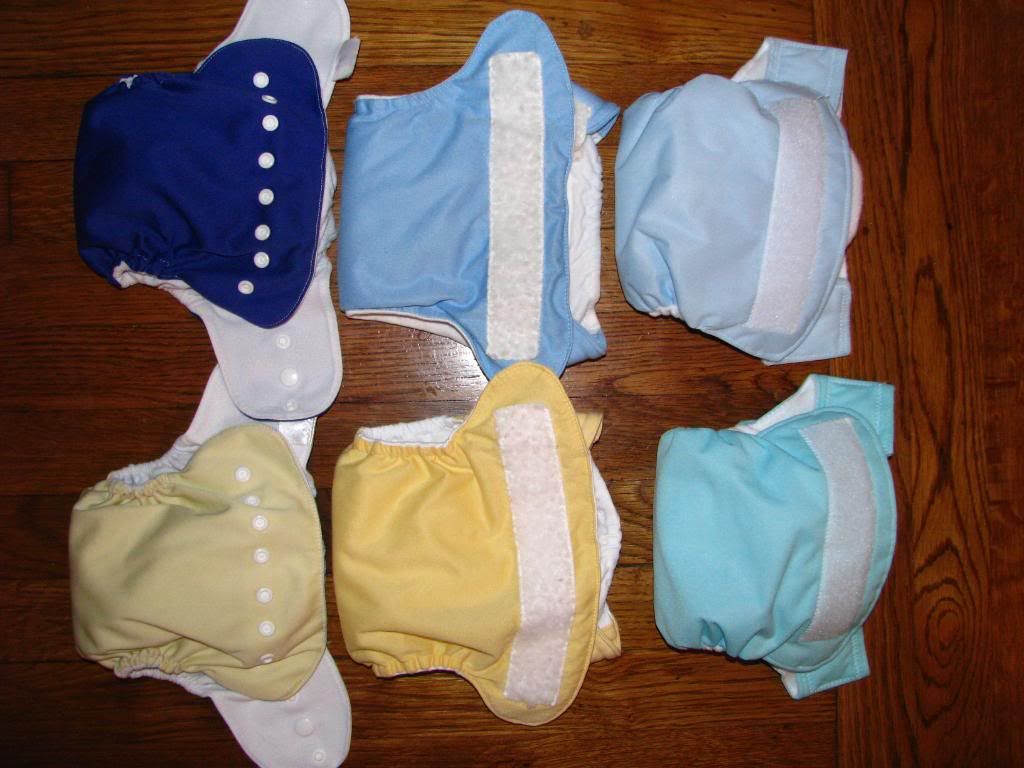 -Inserts: 4 Blueberry's hemp/microfiber insert. These were great in our gdiapers and grobabys! Also could be used in a pocket. Small stain on the one on the left (one dark and one a pinkish color on the hemp) but nothing wrong with them! Work great!! $7ppd each




Infant snappi Brand New! Blue. $3ppd or FFS if you buy something else!sold

-Inserts: 4 brand new never prepped large Nicki's Diapers microfiber inserts. $4ppd each or $14ppd for all 4

7 WAHM made hemp inserts, work GREAT as gdiaper inserts. 2 are topped with fleece, the others are just hemp (but soft). $5ppd each or $30ppd for all 7

5 Tiny Tush small microfiber inserts. Only the one is stained (darker in picture than IRL) and hasn't been sunned, it's EBF so I'm sure it would sun out! $3ppd each or all for $13ppdsold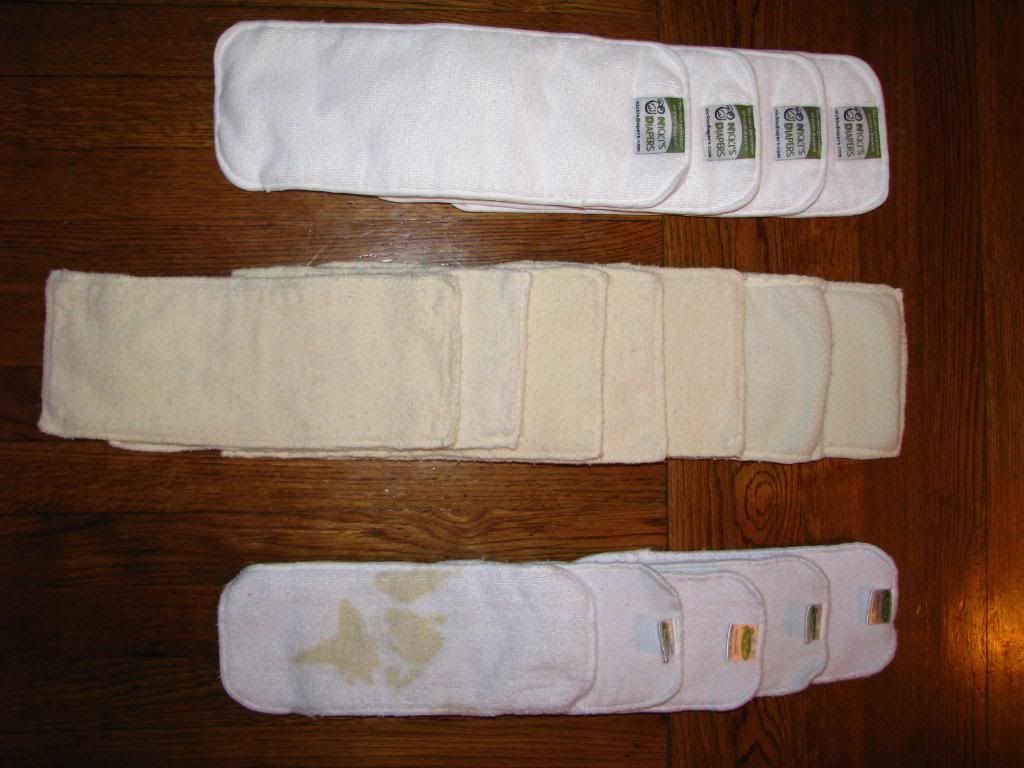 -3 Aristocrat Wool Soakers Medium. Bulletproof, slightly (or more) felted in the crotch. Not much stretch, but they work great for nighttime! We were using them over the fitted kissaluvs! sold

-3 no name handmade wool soakers. Dark gray is brand new, very soft. Blue is brand new with extra sewn in soaker, never worn or lanolized. Beige was my favorite, freshly lanolized, perfect condition! All fit like mediums, the gray is a high rise. $14ppd for the gray, $10ppd for the blue, $17ppd for the beige, or all for $38 ppd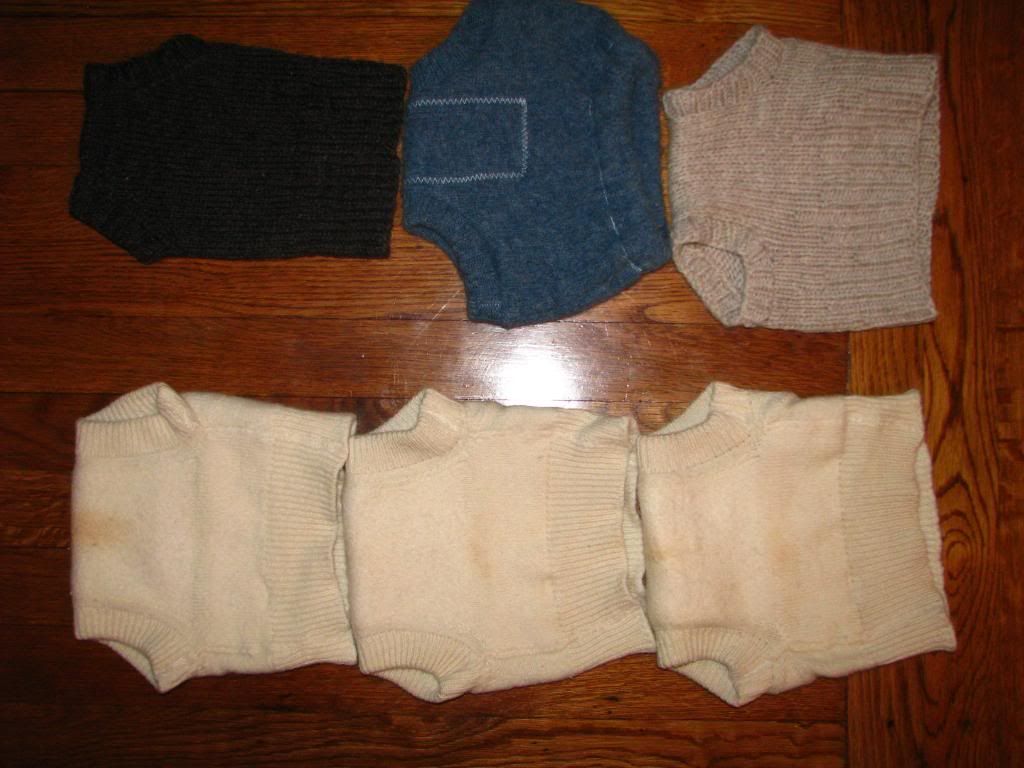 -1 Thirsties Medium Cover. EUC. Velcro still great, elastic great. $9ppd

-4 Tiny Tush cover, light blue, aqua) and 1 small (periwinkle). These are seconds. The butter has a tiny hole where the snap was repositioned, the aqua has 2 tiny pen dots, and I can't find anything wrong with the others! $8ppd each or $28ppd for allsold

-2 BNWOT Swaddlebees Medium Fleece pockets side snap. Don't come with inserts. Blue and Butter sold

-1 Grobaby shell in Blackberry. DH wouldn't let DS wear this light of a purple! Elastic still great, velcro a little pilly but still works well!sold

-1 BNWOT Wonderwrap Cover in Mandarin. These covers are amazing! They fit wonderfully for any size baby, over any size fitted or prefold!! $13ppd

-8 Kissaluvs fitteds Medium. Elastic is shot but we use them under wool or covers! STill work great! 2 pink, one white with purple serging, 5 red. $6ppd each or $45ppd for all




Infantino Wrap and Tie Carrier BNWOT. I bought an Ergo at the same time and we use that instead! Never worn! $25ppd

Like this one:




-NIP Summer Swaddler in Light Blue. It's from walmart and is brand new, my DS hated being swaddled! $17ppd

My clothes IHA:
http://diaperswappers.com/forum/show....php?t=1082331 (girl)
http://diaperswappers.com/forum/show....php?t=1082323 (boy)

Thanks for looking! Again MAKE OFFERS!!!!!!!!!!!! Just racked up a bunch in car repairs and I'm hoping to not have to use my birthday money to pay!
---
Last edited by mommajenn13; 01-19-2011 at

09:51 AM

. Reason: updated pictures