Registered Users
delete
---
My girl is potty trained, at home and at daycare! Here is my whole stash of diapers. They are all either one-size or mediums.

Prefolds:


5 Standard Blue DSQ Bleached prefolds, measure ~13"x18", $5 + shipping
9 GMD Brown Unbleached prefolds, measure ~15"x16" sold
1 standard unbleached prefold embellished by Laurel Love Boutique, measures 13"x17"
The following were more useful as burp cloths than diapers, quite thin. FFS or will just throw in with something else
4 white birdseye prefolds, ~13"x16"
4 patterned birdseye prefolds, ~13"x16"
1 flat, 20"x21"
Covers and snappis also listed below. Hemp trifolds also listed below, sold to me as "prefolds".

Pockets Plus Misc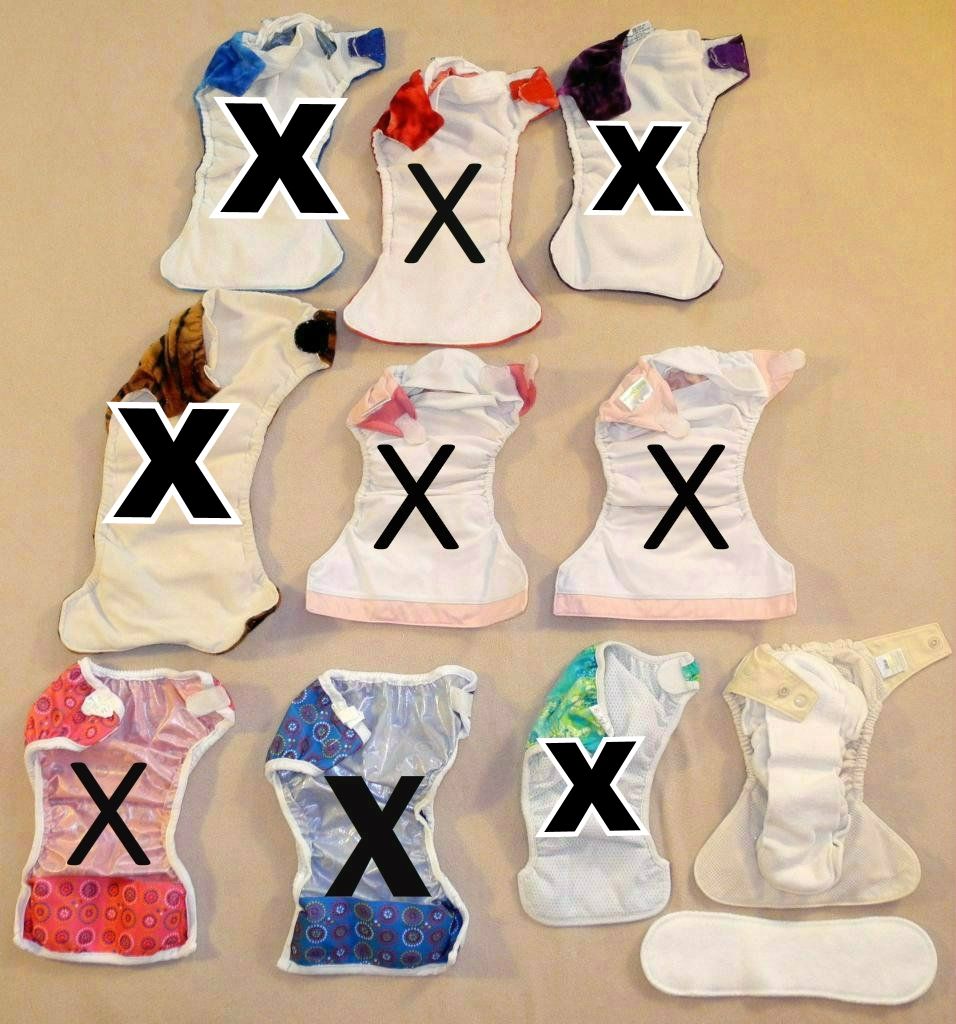 Top Row:
Blueberry minky OS pockets with aplix closures,
Sapphire, Ruby, purple Tanzanite, $8 each $6 ppd each
sapphire has rip at pocket opening, all have elastic that is on the way out all sold
Middle Row:
Mamanature minky OS pocket with aplix, tiger print, elastic pretty shot, $6 ppd $5 ppd sold
BumGenius 3.0 OS pocket with aplix, two-tone pink, $9 sold
BumGenius 3.0 OS pocket with aplix, pink, $9 sold

The inserts for the pockets are shown below. Just let me know which insert you prefer at no extra charge (pick one per diaper or take them all with the lot).

Bottom Row (misc):
Bummis Super Brite cover, pink, size Med, aplix, $9 sold
Bummis Super Brite cover, blue, size Med, aplix, $9 sold
Bummis Swim Diaper, green, size Med, aplix, $9 $8 ppd (also shown below) sold
GroBaby (pre GroVia) OS AIO/AI2, natural, snap closure. This is 1 shell, 1 snap-in soaker, 1 lay-in doubler. $16 ppd $14 ppd

I found another swim diaper, so here is a better picture of just the swim diapers: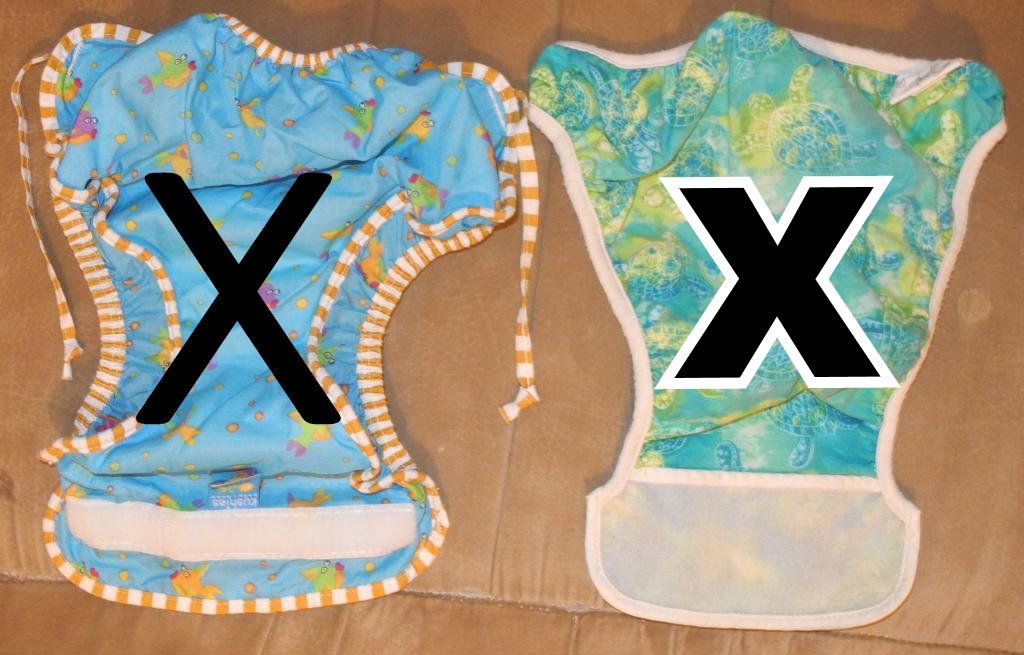 A Kushies in med, blue with fish, $9 sold
A Bummis swim diaper, med, green with turtles, $9 ppd $8 ppd (also shown above - I only have one though)

Inserts and Accessories:


10 Willow Sprouts hemp trifolds, measure ~12"x15" (sold to me as "prefolds" but I used these as inserts for my pockets), $25 ppd sold
3 hemp doublers, measure ~9x10 sold
2 Babykicks hemparoo, Med sold
1 Knickernappies loopy-do, Small sold
3 misc microfiber inserts, measure 10.5", 11.5", 15" long
1 Blueberry hemp/microfiber combo insert sold
4 snappi - blue, light blue, teal, purple, $5 ppd sold
10 single-diaper-size zippered wetbags (perfect for meeting daycare requirements), assorted colors, by DiaperPalz, $2 each + shipping all sold


13 Muttaqin Baby 3SR (means one-size) AIO/AI2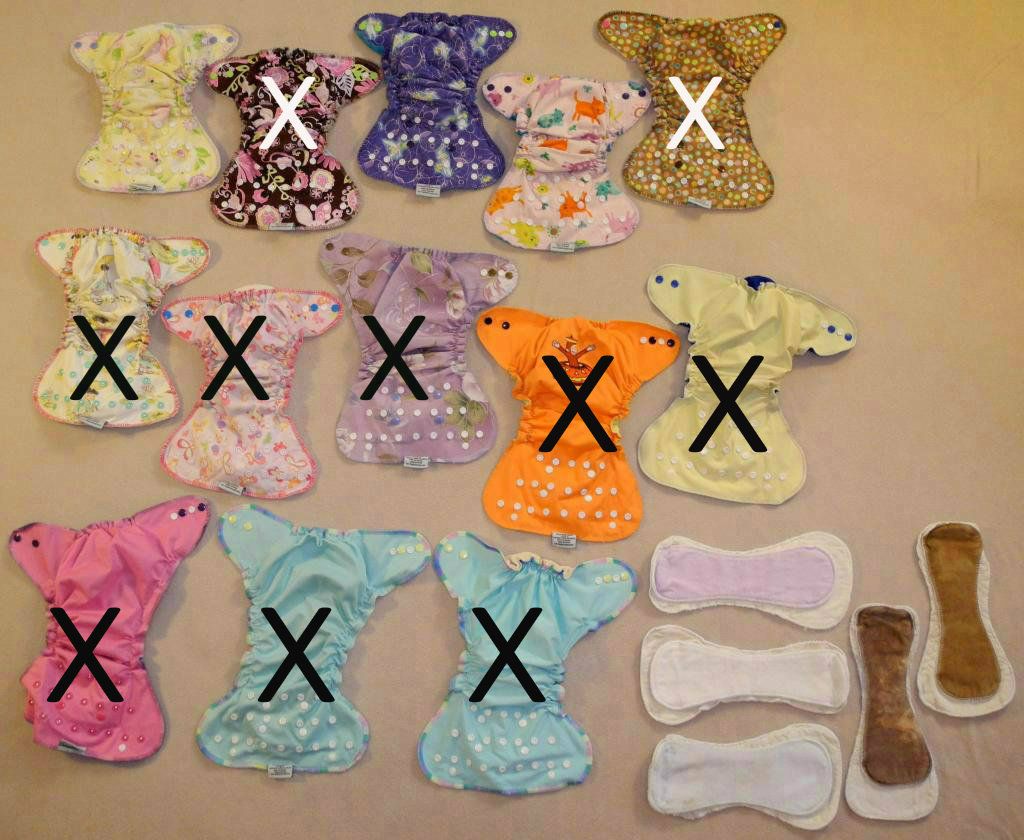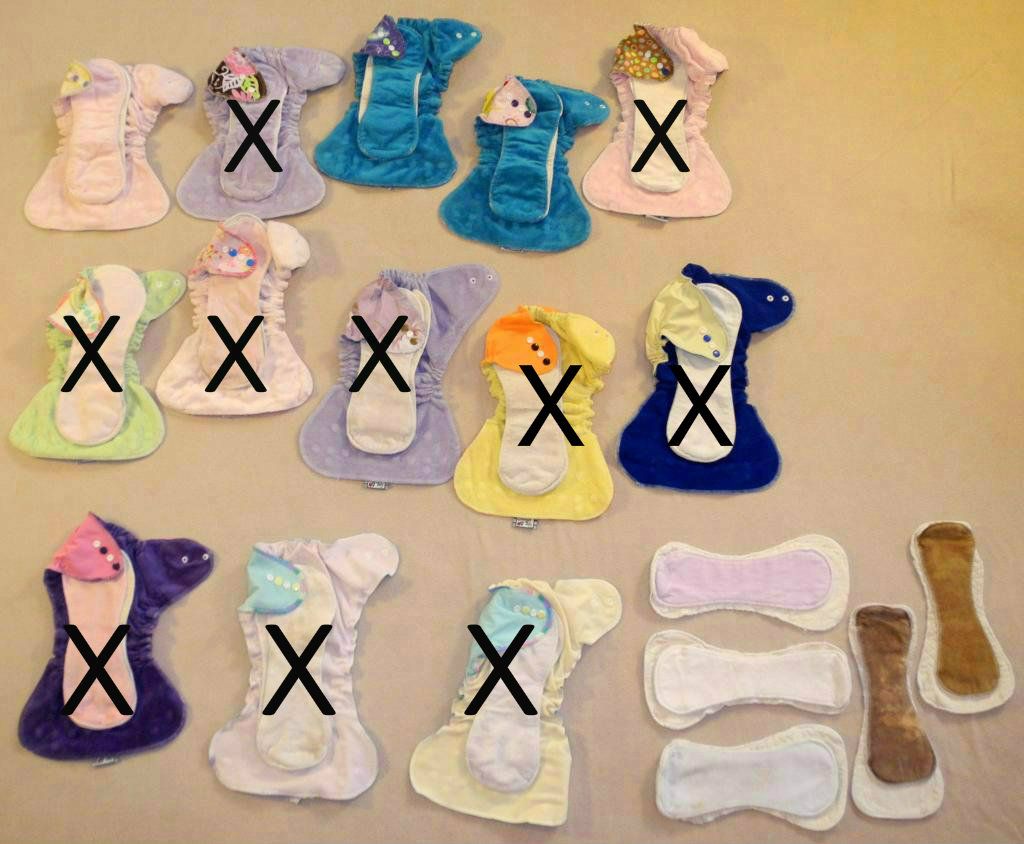 The mutts all have petal-style soakers (not trifolds). The top row all have the 3 layer soakers, and the others have the 2 layer soakers.
Top Row - First tier diapers, EUC, all my favorites, $17 ppd each
I can tell you that these are my very best diapers. They are still in super great condition, super squishy and soft. I have bought $17 mutts off here before and sometimes have been happy and sometimes disappointed, and I can tell you that you will not be disappointed with these! These were bought new by me as customs.
1. Garden Party
2. brown flowers sold
3. Tinkerbell on Purple
4. Playful Kittens
5. brown with spots sold
Middle Row - elastic not as great, still fine to use, $12 ppd each $10 ppd each
6. Asian girls sold
7. Butterfly sold
8. Purple Flower sold
9. Orange Curious George sold
10. Yellow sold
Bottom Row - poor elastic, $6 ppd each $5 ppd each
11. Pink sold
12. Light blue (I tried my hand at fixing elastic myself on this one) sold
13. Light blue sold
I also replaced the soakers on a bunch of my Mutts, so have several older extra soakers that I'm happy to throw in.

22 Sposoeasy AIO, size Medium, snaps


These were my daycare diapers because they are simple enough to use. A few have elastic that is not as tight, but they are still fine. Also, a few went through the wash with something (a crayon maybe?) and came out with a few little black spots on the outers. Two have lost one of the fastening snaps, but are still useable because there are two snaps on each side.
6 Yellow
5 4 Purple
4 1 Sage
4 3 Pink
3 Teal
$175 ppd for the whole lot of 22 Sposoeasy, or $10 ppd each
$150 ppd for the whole lot of 22 Sposoeasy, or $8 ppd each
$8 ppd individually, or will discount for multiples

Click the photos to make them bigger. I am happy to take more photos of individual diapers you may want to see better, or of specific flaws you want to see in more detail. Please ask questions if you have them.

Please feel free to make offers. We live in a smoke-free, dog-owning home. I wash with Country Save. Since our youngest is now potty-trained, I am not ISO any diapers, but you can try me with other items you may have to offer. I am mostly just looking for Paypal though.
__________________
-Alicia, mommy to
Munchkin (5/19/06)

and Sweets (4/25/09)

---
Last edited by CEVmommy; 03-25-2013 at

08:01 AM

.