over 100 diapers for sale!!!
---
We have been out of diapers for a long time I need these gone from my house. $6 each diaper plus shipping some of these were never used. SOme are priced higher if no other price is listed it's just the $6 plus shipping.

The only ISO I have now are gift cards and coach purses.
#56-59
56 large AIO elastic is shot $5
57-58 cheap covers $5 for both
59 BG pink AIO good condition $8




#60-63
60 green BG AIO great condition $10
61 pink small AIO new $10
62 small pocket new never used pink PUL Outer suedecloth inner $10
63 newborn pink pocket $6



#64-68 POCKETS
64 small frog FB $8 sold
65 small green FB $8 SOLD
66 white large preston pants noahs ark $20
67 large yellow minkee preston pants beach scen $25
68 red preston pants frog $20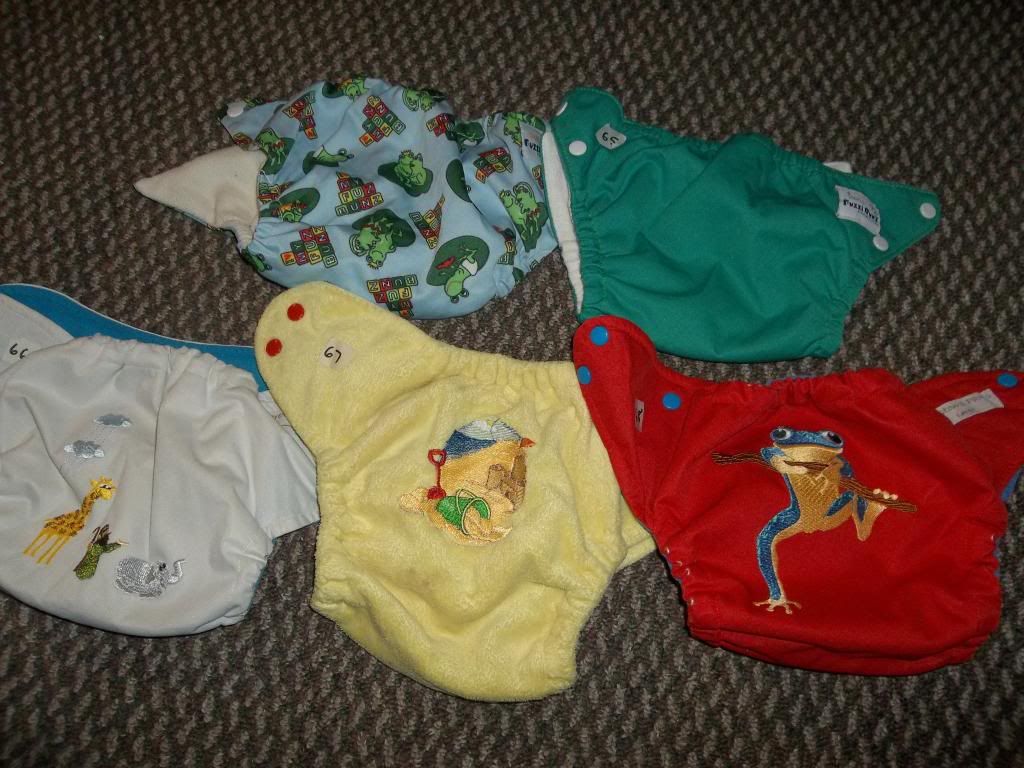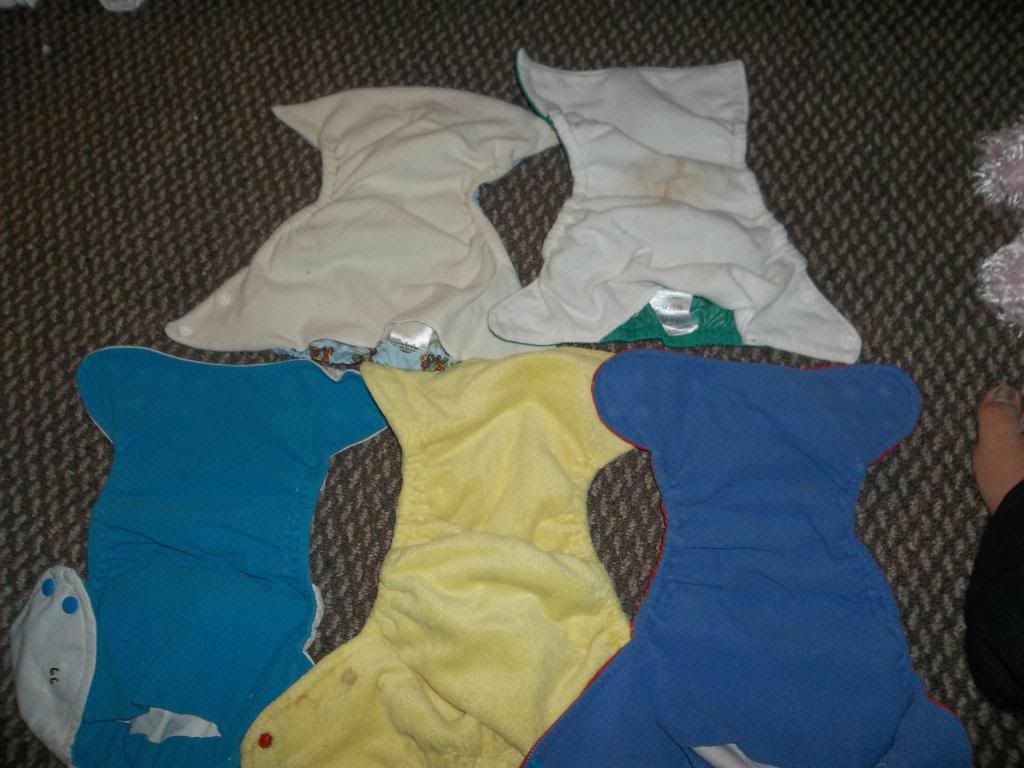 #69-73 Bumgenius pockets good condition $8 each SOLD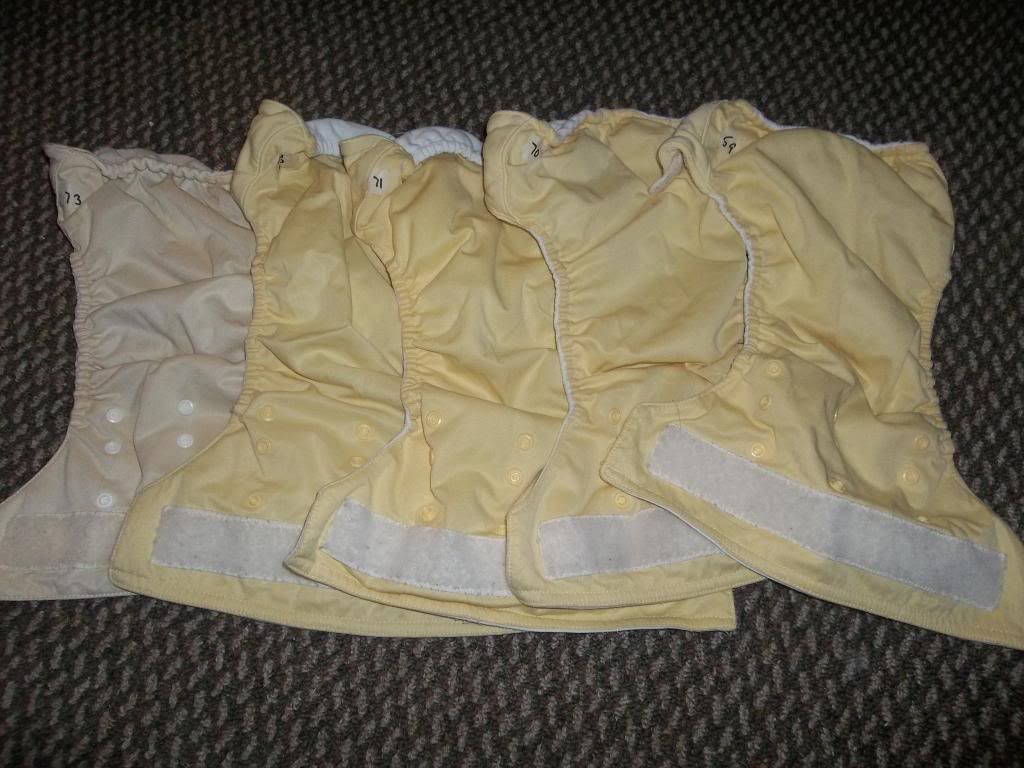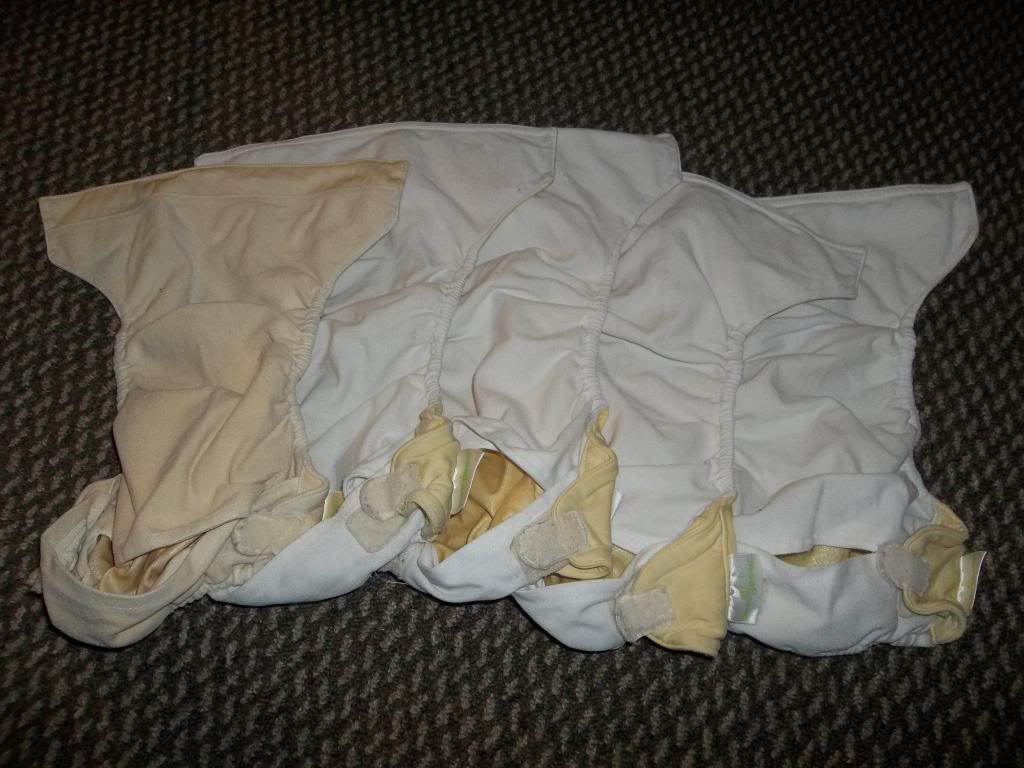 #74-80 Bumgenius pockets good condition $9 each SOLD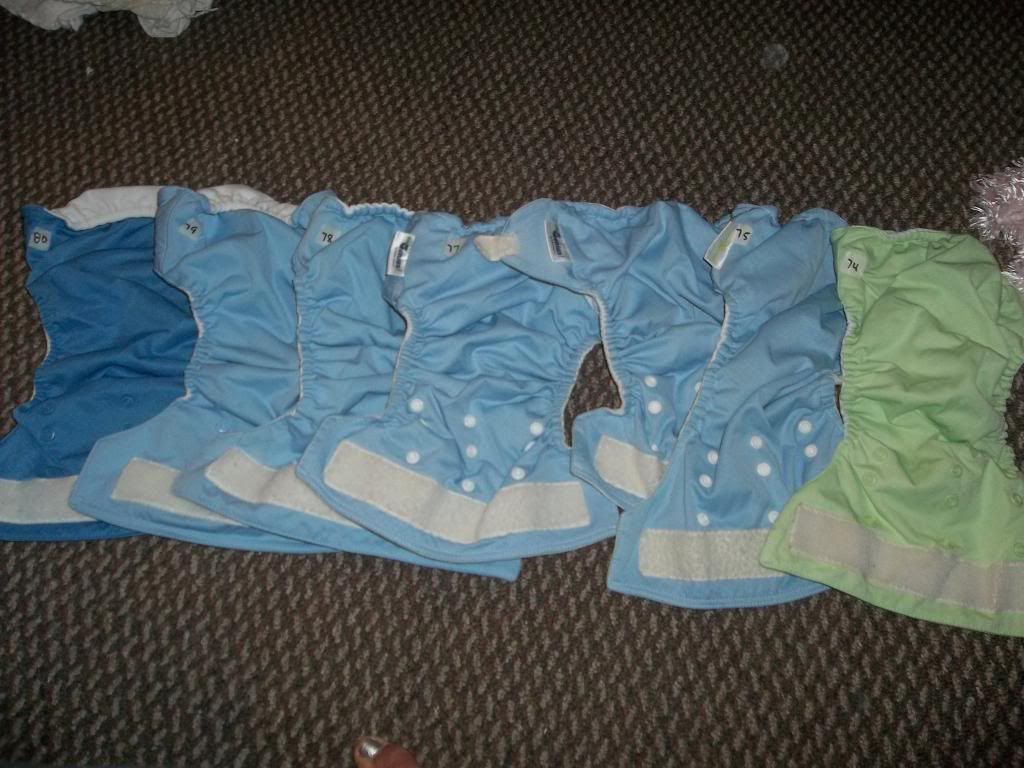 #81-85 small PUL Closure sandwhich bags never used $4 EACH




#86-88 PUL bags for diapers can fit 3-4 large AIOS zipper closure with snap strap brand new unused $15 each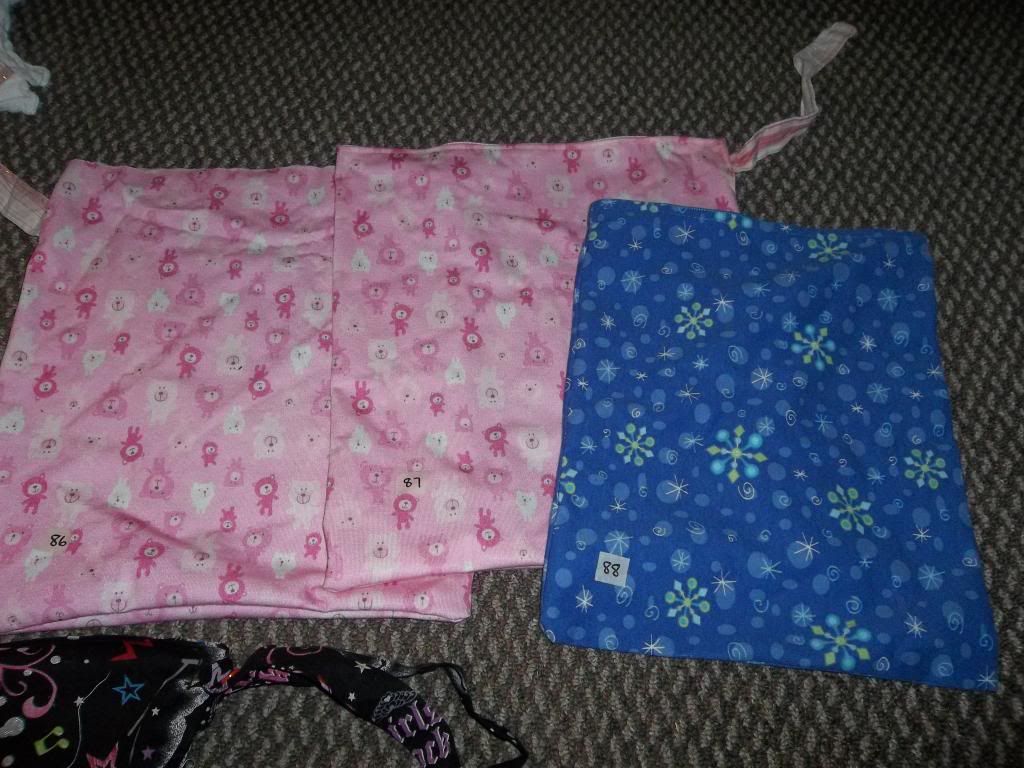 #89 large PUL girls rock wetbag fits 4-5 large AIOs zipper closure with strap $18
90 XL fitted $6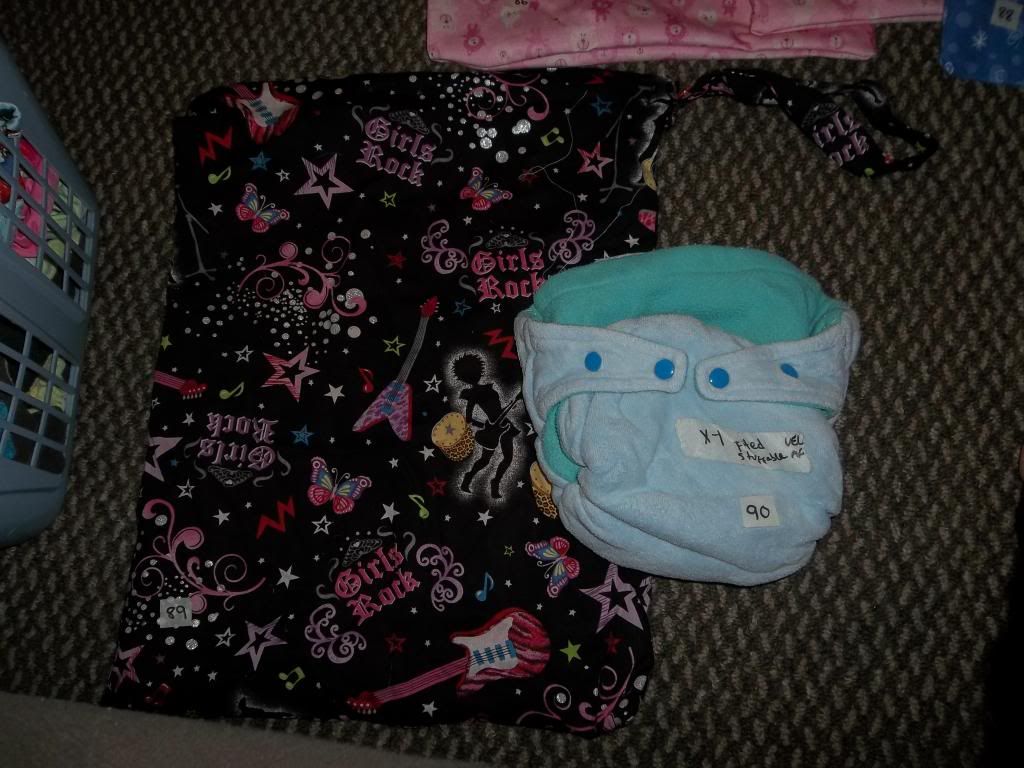 These are ultra soft made by me the sweaters were prewashed and dryed to minimize shrinking these are not felted totally soft all the seams are sewn twice to make them ultra strong.

These are $15ppd each will discount for multiple purchases I accept paypal.

#1
pink ralph lauren sweater with burgundy waist
waist 17 rise 17, inseam 12




#2
purple merino wool with multi stripes waist band
waist 15, rise 17, inseam 9



#3 white merino mixed with angora with purple waist band
waist 16, rise 16, inseam 11





#4 grey and purple stripes merino with lavander waist band
waist 15, rise 16, inseam 11



#5
burgundy knitlike merino wool thick plush multicolor waistband
waist 18, rise 17, inseam 11



#6
burgundy plush merino multicolor waistband
waist 14, rise 15, inseam 9




#7
light green merino thin daywear with striped green waistband
waist 17, rise 18, inseam 9



MORE IHA stuff: carriers:

have these up for grabs


solarveil pouches I have 4 left see below the measurements brand new left over from my HC last year they are tripple reinforced on all the seams they were tried on used maybe once if that.

$28ppd each measure yourself from shoulder to opposite hip if you measure say 25 your top rail should be 2-3 inches less and your bottom rail should be 1-3 more the smaller the top rail in comparison to your hip the higher baby rides if you like to wear them below your hip then aim to be 2-3 inches bigger on the bottom rail kwim? pm me with questions

1. green 26 top rail, 29 bottom rail I think that makes it a xlarge
2. yellow 25 top rail 28 bottom rail about a large
3. yellow 21 top rail 24 bottom rail small
4. green 21 top rail 24 bottom rail small





I also have 2 ringslings left solarveil 1 yellow one 1 green size medium $38ppd

all these outfits are in like new condition barely used no snags rips or any stains. Elastic waist and cuffs that are easily removable.

1.solarveil outfit pictured below an infant green one I have a pink one like this one in a size 12months will fit smaller to like 18months. $30ppd




2. yellow solarveil shirt will fit from 18 months to 3T $20







4. white solarveil shirt long will fit from a 2T to a size 6 tried dying it pink but its more white than anything has pink thread on cuffs and neckline $20ppd








kiddie carriers
#1 pooh ringslings 35 inches great toddler size 2-4 yrs old $12 ds is almost 5 wearing it below and its a tad small.



#2 girls rock with a pocket 40 inches $12


#3 pink hawaiian one measure almost 50 inches large enough for 4-8 yr old.
$15 has foldover 3 pockets on tail.


__________________
Wendy homeschooling mama to two
James 3/04 & Christopher 12/05
My ISO / IHA
http://www.diaperswappers.com/forum/....php?t=1484289
wanting a coach purse, legos, and any gift cards
---
Last edited by ewjcschum; 07-03-2013 at

05:35 AM

.