Registered Users
Fitteds (NB and M/L), PUL covers, prefolds, wool, fleece!
---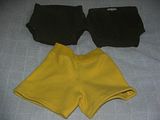 WAHM yellow interlock shorties, large/xl (Waist - 19"-20"Rise - 18"Inseam - 3 1/2") and two XL (XLarge: Rise: 21" Waist: 19"-20.5" Thigh: 11"-13") Sarah's Stitches fleece soakers; olive green outer with an additional layer of tan fleece inner

20ppd on the shorties, 14ppd for the two soakers together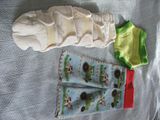 Five NB dappi fitted diapers, velcro closure... 5ppd each or take all five for 24ppd SOLD
a green fleece soaker (7" aross waist, with just over 8" rise)... 5ppd SOLD
barnyard fleece longies (cow/tractor on front, chick/barn on back .. 7" across waist, 7" rise, 8" inseam)... 8ppd SOLD



One TeddyToes receiving blanket, FFS with the purchase of any diapers
one NB Stacinator side-snapping cover, 5ppd
two Yiddle Dopper flannel fitted diapers; one is pink with purple monkeys, one is blue with green monkeys... snap closure, size Small... 10ppd each... I'm not 100% sure that I want to get rid of these... :shifty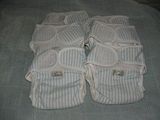 Six blue/white stripe fitted Country Comforts diapers with doublers; velcro closure ... came in a lot and I don't really like velcro, so I've never used... look to be similar in size to a GMD Workhorse red or brown... 6ppd each or take all six for 32ppd SOLD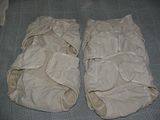 Five dappi covers, size Small (6-13 lb)... again, garage sale find this past summer... but we use mostly wool now so I haven't needed them, and I want to pare down.. 15ppd for the lot SOLD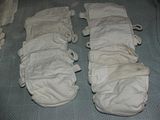 One dozen flannel fitteds by RP Diaper Designs; velcro closure; white; has two different slots for the tabs, so you can fold it down for newborns... I would say size NB/Small? One has a stain on the front panel, looks like maybe some tea got spilled.. not that I ever drink tea around my laundry :shifty .... 48ppd SOLD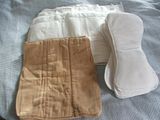 Seven white prefolds, average approx. 13"x16" in size, so comparable to a "medium" Cloth-eez in size... Light staining on a couple of them, but otherwise great condition. 15ppd

Twelve CountryComforts doublers, 7ppd for a half-dozen or 12ppd for all twelve

Also, a still-sealed 2oz. bottle of Start Up and a 2 oz. bottle of Labor Prep that is approximately half-gone. Both from TriLight Health. They make awesome tinctures... gluten-free, glycerine-based... I'll definitely be using Labor Prep again if we have any more littles in the future, but they say that glycerine-based tinctures should be used within a year, so I'd rather see someone else be able to get some use out of it. As for the Start Up, my first labor was 23.5 hours in-hospital, so I got some in case things lagged this time around... but I was at the hospital a mere 2.75 hours before ds2 arrived, so I never needed it. :giggle MMAO!
__________________
Hannah Elise, procrastinator extraordinaire
Wife to Spencer (5.29.10), momma to Asher (3.19.11) & Benjamin (12.20.13)
Mud-lovin', trail-ridin', book-readin', goat-raisin' country girl
ISO: interlock, M/XL GMD workhorse IHA:
Fleece soakers, wool shorties, prefolds
---
Last edited by Hannah Elise; 02-19-2013 at

08:35 AM

.