Please Delete
---
Fine print first: All items were knit by me. The longies are my own pattern that have short rows in the bum and a gusset for the crotch. We are a smoke-free, pet free home. I will ship asap usually next day and will ship to Canada using first class mail for just a little more. All items have been washed but not lanolized and have had a quick shave.


12ppd Sleepsack knit on Ella Rae peruvian yarn. Ribbed waistband and drawstring bottom.
Waist 12"
Length 16"



$12ppd Sleepsack knit on 3ply Purewool "Abir" colorway. Elastic waistband and drawstring bottom. This was my favorite to use.
Waist 14"
Length 15 1/2"




$25ppd Medium shorties Selah "Iron Giant" on Gaia worsted. Drawstring waist with maybe some slight felting in the wetzone. Firm on price because I still have a matching shirt and think DD can rock them if they don't sell.
Waist 18"
Hips 22"
Rise 17"
Inseam 3 1/2"


New/Never Worn $35ppd newborn size will get measurements tomorrow. Shirt/hat by Zaberry on ETSY. Longies knit by me on 3-ply purewool Hanaki.
Waist 12"
Hips 16"
Rise 13 1/2"
Inseam 5 3/4"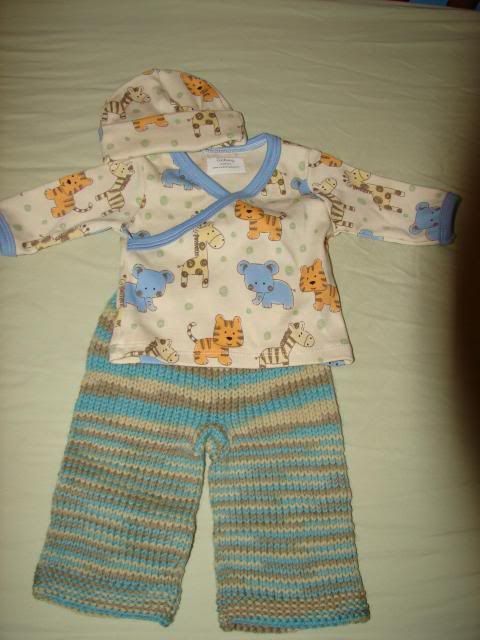 Used $15ppd Tunesian Crochet longies by Icanonlyimagine on 3ply purewool Zeus with cascade 220 trim. Slightly felted in the front. Not much stretch to them.
Waist 18"
Rise 18"
Hips 21"
Inseam 10 1/2"



Used $15ppd RetroBaby "Experimental" on MMW. The legs on these are a bit straigher/less baggy than the others.
Waist: 16"
Hips: 17"
Rise: 16"
Inseam: 9"



Sold 30ppdNB ducky outfit Hat and Longies out of TIG Thierney(I think that is how it was spelled it is a retired colorway now) on Carys BFL yarn. A nice soft newborn base. The pants have a ribbed waistband and hat has a rolled brim and top loop. Not sure who did the shirt but it is a rabbit skins newborn size with duck emboridered on it.
Measurements:
Waist 12"
Hips 15"
Rise 14"
Inseam 5 1/5"
Hat 13"



Sold $18ppd Medium Kaboom Pocket Shorts on 3ply Purewool Suarez colorway. Elastic waistband and maybe some slight felting in the crotch area.
Waist 17"
Hips 20"
Rise 16"
Inseam 2 1/4"




PM me with questions. Thanks!
__________________
Mama to 2 boys
and a girl, married to a big boy, with 2 gerbils a bunch of fish.
for my sanity.
Knitted stuff link
Stripe Knits
[URL="http://www.swagbucks.com/refer/MRSSTRIPE"]Swag with me.
---
Last edited by MrsStripe; 07-11-2013 at

07:29 PM

.