Specializing in FULLY CUSTOM Baltic Amber and Gemstone Jewelry
It's GIVEAWAY time on Facebook, come check it out:
Join us on Facebook
For specials, discounts and newest releases of Funky Birdie designs
Diaper Swappers EXCLUSIVE:
For Diaper Swappers mamas ONLY,
10% off
all listed prices!!!
**Please use your DS username followed by the code: DIAPERSWAPPERS in the comments section when ordering
(DS mama discount does not apply to special order items, cannot be combined with other discounts.)
ALSO, I will be running DS ONLY specials very soon!!
For product details and to place orders, please visit the website:
FuNkYBirdieBoutique.webs.com
I am happy to answer any questions you may have, for fastest service please email me at:
ChefWendyBird@yahoo.com
For details, please visit the website:
FuNkYBirdieBoutique.webs.com
We specialize in:
~Teething and colic jewelry for babies and toddlers
~Adult and children gemstone jewelry
~FULLY CUSTOM jewelry design
~Repair of amber jewelry
~We stock 40+ gemstone varieties to further customize your jewelry and boost healing.
What is Baltic Amber?
Baltic amber, is a fossilized tree resin originating from the Baltic Sea Region of Lithuania, near Russia.
How Does Baltic Amber work?
Baltic amber when worn against the skin, warms slightly releasing it's natural oils into the system. The therapeutic compound within the oils of Baltic amber is succinic acid (succinum) which is present in the human body naturally. Succinic acid is an all natural pain analgesic, or pain reliever. So introducing Baltic amber to the body is essentially giving your body a boost of it's own natural pain-fighting agents! While all amber contains succinic acid, only Baltic amber contains enough succinic acid to be considered therapeutic in cases of pain relief.
Baltic Amber has been known as an effective and all-natural method of pain relief throughout Europe & Asia for decades, if not hundreds of years!
When will it take effect?
As with most natural and homeopathic treatments, the time and strength of Baltic Amber's effectiveness is different for everyone. Some people will notice slight differences almost immediately-within less than 24 hours of putting on their jewelry, pain symptoms lessen. For most it is a cumulative effect, with the easing of symptoms most often noted within 2-3 weeks of using their jewelry. NOTE: Baltic Amber is most effective when worn as much as possible. The stones need to be in contact with the skin to warm and release their oils to receive maximum therapeutic benefits.
The most common testimonial we receive is when people get their new amber jewelry and wear for a long while, perhaps not even noting the changes they are experiencing. Invariably they take off their amber jewelry for some reason or another. We love to receive emails like this, "We had the worst day yesterday (pain-wise). Baby was cranky and cried so much. And then I realized we took off the her necklace the night before! I put it back on her right away. I didn't even realize how well it was working till I took it off and OH MY GOSH! We love it! We are convinced, never will we be without amber again!!"
Where should Baltic Amber be worn?
Ideally you will want to wear your Baltic Amber jewelry as close to the source of the pain you are experiencing. For example, for teething, headaches, neck and shoulder pain a necklace is ideal. While for carpal tunnel, arthritis and tendonitis a bracelet is best. Anklets are wonderful for sprains, leg cramps, and even sciatic pain.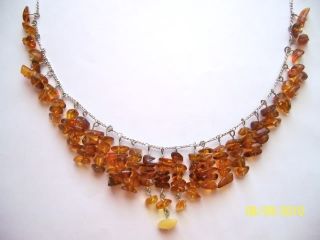 Who can benefit from Baltic Amber?
Baltic Amber is all natural and is safe for the whole family! Babies, children, adults and elderly can benefit from it's all-natural pain relieving effects. Below are many of the ailments with which Baltic amber has proven to be effective:
Arthritis, Acid Reflux (GERD), Burns, Broken bones, Carpal Tunnel, Chemotherapy, Chronic Back Pain, Chronic Fatigue, Colic, Endometriosis, Fibromyalgia, Gas, Kidney Disorders, Lupus, Menstrual Cramps, Migraines (Chronic Headaches), Muscular Aches and Strains, Nausea, Osteoarthritis, Pregnancy Symptoms, Rheumatoid Arthritis, Sciatic Pain, Stomach Problems and Upset, Teething Pain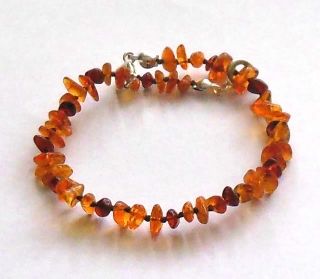 Safety Features
All FuNkY Birdie jewelry for babies, toddlers and children is hand-knotted in between each bead as a safe guard. In the event the jewelry were to break, only one bead will come loose, which minimizes the chance of a child swallowing beads. Baby/Toddler/Children's jewelry is also made with safety break-away points at the clasps of each piece-IF PULLED ON WITH FORCE YOUR JEWELRY WILL COME APART! That is what it's meant to do!! That way if a baby or child were to become bound, the piece will break away and pose less of a threat of injury to the child. Amber jewelry is NOT intended to be chewed! Please watch for your child putting amber jewelry in the mouth. If a necklace can reach a child's mouth-it is TOO LONG! It is important to inspect jewelry regularly for broken beads or other issues.
Please use common sense when using jewelry on babies and children. It is to be used under supervision only!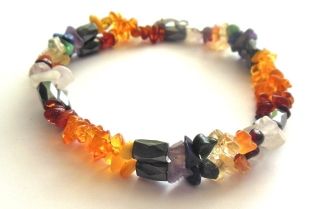 Sizing Guide
Babies, Toddlers and Children
Baltic Amber jewelry works by being worn against the skin, it is NOT intended for babies and children to chew on their jewelry. It is important when determining what size to order, sure your child cannot roll their necklace over their chin and into their mouth.
How to Determine the Best Size
Using a soft measuring measuring tape determine what length will be best. If you do not have a soft measuring tape, you can use a string, shoe lace or piece of dental floss and measure using hard tape or ruler. The key is not tight but not long enough for child to pass the necklace over his or her chin and put into his or her mouth. Please keep in mind, the amber stones will add a little "thickness" as they are stones and not as narrow as the tape or string.
Adults
For adults, the choice of size is mostly personal preference. Keep in mind amber works by being worn against the skin, so necklaces need to be against the neck or worn under clothing. Anklets and bracelets need to be worn under socks and sleeves. Follow the same procedure listed above for How to Determine Best Size. Please remember that the amber stones will add bulk to the measurement. If you are looking for a snug fit, we recommend adding 1-1.5" to the actual measurement of your neck, wrist or ankle to accommodate the thickness the amber itself will add.
When ordering please note the length of the jewelry NOT the length of your neck/wrist/ankle. Jewelry will be made to the length you order.
Pricing, Pictures, and Amber FAQ, please visit: FuNkY Birdie Boutique
The pictures shown here are not stocked pieces.
For assistance designing a piece just right for you or your family,
please email me at:
ChefWendyBird@yahoo.com
SOME OTHER FUN GOODIES FROM THE FuNkY Birdie Boutique:
Anti-Slippie Hair Clippies
For details, please visit our website:
FuNkYBirdieBoutique.webs.com
Jeweled Hair Pins
For details, please visit our website:
FuNkY Birdie Boutique.webs.com
Clippie Keepers
For details, please visit our website:
FuNkY Birdie Boutique.webs.com
Gift Bags
For details, please visit our website:
FuNkY Birdie Boutique.webs.com
Add a colorful organza gift bag to your order!!! Great option for easy, pretty and paper-free, eco-friendly gift-giving!!! Plus, they're reusable! (Color of your choice, while supplies last.) Measures 3"x4"
Colors: White, Baby Pink, Maroon, Cherry, Lemon, Lime, Olive, Ocean, Royal, Navy, Lavendar, Black